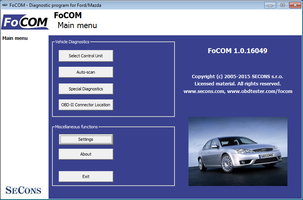 Go back to FoCOM homepage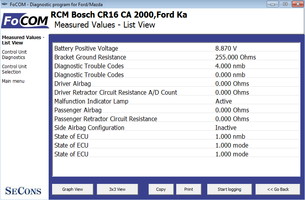 Click here for more FoCOM screenshots

This is original
high quality product
with 2-year warranty. We do not sell Chinese imitations.

Need assistance?
E-mail
or call us at +420 222 743 723 or +1 360-469-0472.

Latest FoCOM version
is
?
2023-09-28 1.0.21429
Improved error message when fault codes cannot be cleared due to unmet conditions.
2023-07-17 1.0.21394
Added a large number of unrecognized units
2023-05-25 1.0.21385
Autoscan now distinguishes between ECUs where reading DTC failed and ECUs without DTC memory function
2023-03-14 1.0.21315
Reworked user interface scaling algorithm
2023-02-08 1.0.21224
Added feature request button for customers who wish to report useful, yet missing functions
2022-12-14 1.0.21055
Improved live data functionality: last choice is remembered between reconnections.
2022-10-10 1.0.21019
Improved application stability during communication interruptions with the control unit.
2022-06-22 1.0.21016
Application crash fixed: Disconnecting interface in the measured values dialog
2022-06-07 1.0.21009
Application crash fixed: Race condition in measured values dialog
2022-03-15 1.0.20817
Added new coding functions for Bosch MD1CS005
FoCOM Volvo diagnostics support
FoCOM now contains special diagnostics option to diagnose Volvo cars.
This is experimental function with limited functionality. The function is provided on as-is basis with no guarantee on functionality and use at your own risk. The function may be changed or completely withdrawn in a future version. In case you run into any troubles using this function, please do not hesitate to contact us. Even in case we will not be able to help, your information is useful to further improve the product.
We would like to ask you also to provide control unit snapshots that can be saved from Identification function ("Save ECU information").
For Volvo diagnostics please select direct connection to control units from one of these menus, based on diagnosed model:
Special diagnostics > Volvo ISO diagnostics for models before 2000 and for selected control units up to 2005. Volvo V40 and S40 use this option up to 2004 for all ECUs.
Special diagnostics > Volvo CAN 2000 diagnostics for models after 2000
Special diagnostics > Volvo CAN 2005 diagnostics for models after 2005. Try next option if this fails.
Ford (FoMoCo) diagnostics For all models after 2012 and most models after 2008
Autoscan function is not available for Volvo (with exception to recent Volvo vehicles that use standard FoMoCo diagnostics).
See also