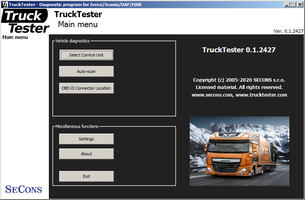 Click here for more TruckTester screenshots

The software is contantly updated. and
technical support
.

Play TruckTester video tutorials.

Latest TruckTester version
is
?
2023-09-28 0.1.3103
Improved functionality for 2022+ DAF vehicles
2023-09-21 0.1.3074
Initial support for XG 2022-2023 model
2023-08-22 0.1.3056
Added DPF regeneration for Iveco/Bosch MD1CE101 ECU
2023-08-16 0.1.2999
Added multiple security-access (seed-key) algorithms for DAF ECUs
2023-07-18 0.1.2866
Fixed Delphi ECT3/PCI ECU codings
2023-07-18 0.1.2866
Added decoding of generic SPN fault codes for selected ECUs
2023-05-29 0.1.2823
Improved DAF live data coverage
2023-05-25 0.1.2814
Autoscan now distinguishes between ECUs where reading DTC failed and ECUs without DTC memory function
2023-05-25 0.1.2814
Added security access (seed-key) authorization algorithms for several DAF ECUs
2023-05-16 0.1.2771
Improved support for various DAF ECUs
TruckTester
Trucktester is still in development, don't even bother ordering at this moment, you will be very disappointed and regret your decision heavily ;-).
Key features
Updates
TruckTester comes with free 1 year updates (if you purchase in October-November-December, you get the following year for free). Additional updates in the following years are paid.
Beta functionality
Only TruckTester for Mercedes-Benz is currently available for purchase to the general public. If you wish to become a tester for other TruckTester modules (such as MAN, DAF, Iveco, ...) please let us know by e-mail.
Order
We provide standard 2-year warranty for our products.
You can purchase extended 5-year hardware warranty for your diagnostic interface within 14 days of delivery date:
Documentation
In addition to documentation below you migh find useful also
DiagWiki.com
tutorials related to TruckTester.