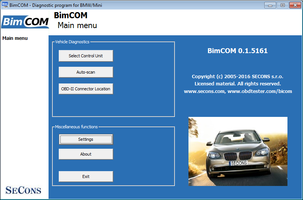 Go back to BimCOM homepage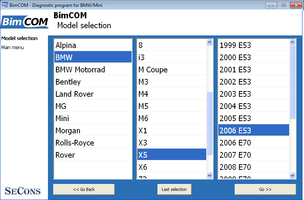 View BimCOM screenshots
Powertrain
System
Ident.
DTC
Freeze
Livedata
Actuators
Commands
(Coding)
Conf.
(Coding)
DME/DDE - Digital Motor/Diesel electronics
BMS-X (UDS)
6
0
46
18
-
Motorrad DME BMS-K (Bosch ME9)
0
0
0
0
-
Motorrad DME BMS-KP (Bosch ME9)
0
0
37
12
Rd/Wr
Motorrad Engine K50/51/52
6
0
34
12
-
Chassis
System
Ident.
DTC
Freeze
Livedata
Actuators
Commands
(Coding)
Conf.
(Coding)
ABS/ASC/DSC - Anti-lock braking system
ABS Continental Motorrad (UDS)
6
0
27
0
-
Motorrad ABS MRABS
0
0
11
6
-
FA
Motorrad FA
0
0
9
2
-
RDC - Tire pressure monitoring
Motorcycle tire pressure control
0
0
9
0
-
RDC Motorrad
8
0
7
0
-
SAF
Semi-active suspension
6
0
18
0
-
ZFE
Motorrad ZFE Basic
0
0
28
7
Rd/Wr
Body
System
Ident.
DTC
Freeze
Livedata
Actuators
Commands
(Coding)
Conf.
(Coding)
CAS - Car access system (immobilizer)
Motorrad EWS4 (UDS)
6
0
1
0
-
Motorrad SLZ Keyless entry (UDS)
6
0
12
0
-
DWA/SINE - Anti-theft alarm system / Siren
Motorcycle anti-theft alarm system
0
0
8
1
-
Motorrad DWA (UDS)
6
0
15
0
-
FRM - Footwell module
Motorrad body controller
6
0
58
14
-
Motorrad body controller light
6
0
49
14
-
KOMBI - Instrument cluster
Instrument cluster KOMBI K48
6
0
25
0
-
Instrument cluster KOMBI K50
6
0
21
0
-
Motorrad KOMBI K71
0
0
2
1
Rd/Wr
No ECUs in this category. No ECUs in this category.
Multimedia
No ECUs in this category.
Number of identifications, fault codes or configurations may vary depending on control unit variant or programming. Count of configurable parameters (codings) is displayed if the BimCOM supports user programmable parameters. If only configuration transfer is possible, Rd/Wr is displayed.
Errors and omissions excepted. SECONS s.r.o. is not connected with car manufacturers in any way. This page uses trademarks that are property of Bayerische Motoren Werke AG or other owners in nominative fair use to identify car models.