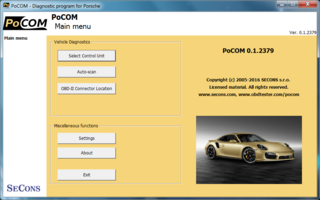 Click here for more PoCOM screenshots

The software is with
free updates
of diagnostic functions and
technical support
.

Play PoCOM video tutorials.

Latest PoCOM version
is
?
2022-11-25 0.1.8037
Improved live data functionality: last choice is remembered between reconnections
2022-10-10 0.1.8002
Improved application stability during communication interruptions with the control unit.
2022-06-22 0.1.7996
Application crash fixed: Disconnecting interface in the measured values dialog
2022-04-21 0.1.7876
Added PDK transmission coding to Porsche 918 Spyder, Porsche Boxster, Porsche Cayman and Porsche 911.
2022-03-10 0.1.7823
Improved coding routines failure evaluation and reporting
2022-03-09 0.1.7822
Improved Porsche Taycan support
2022-02-01 0.1.7711
Fixed bug preventing ECU connection introduced on 2022-01-28, please update PoCOM
2021-11-12 0.1.7581
Fixed some minor issues with older 9x6 ECUs
2021-11-11 0.1.7526
Added support for subsystems on newer vehicles (911/992, Panamera/971, Cayenne/9YA)
2021-10-29 0.1.7409
Fixed various ECU diagnostic mode initialisation issues
PoCOM
PoCOM is diagnostic tool for Porsche. It supports all OBD2 compliant vehicles since 1996. We tried to maintain compatibility with PIWIS and PIWIS II dealer tools where possible. Also people who use VAG-COM/VCDS® or used Durametric scantool will be familiar with the application.
PoCOM comes with OBD2 to USB interface and is designed to work on Windows 2000/XP/Vista/7/8/10 or Linux or Mac OS/X (using Wine emulation). Hardware requirements are very low compared to dealer-tools.
Hardware
Our OBD2 to USB PoCOM interface contains 2 multiplexed ISO9141 K-Lines and L-Line, high-speed CAN-BUS and analog measurement circuits. Supported protocols include KW-71, KW-1281, KWP2000, VW TP1.6, VW TP2.0, ISO15765 and UDS ISO14229.
We do not supply Porsche round connector at this moment. Pre-1996 Porsche models with round Porsche connector are covered, but third party adapter must be used and functionality cannot be 100% guaranteed, in case of any problems, please contact us.
Key features
Please use
our contact form
if you wish to get more information about PoCOM.
Order
We provide standard 2-year warranty for our products.
You can purchase extended 5-year hardware warranty for your diagnostic interface within 14 days of delivery date:
Documentation
In addition to documentation below you migh find useful also
DiagWiki.com
tutorials related to PoCOM.
.
.