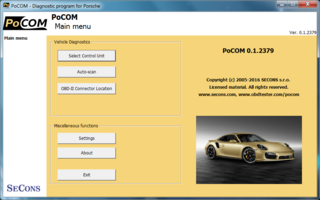 Click here for more PoCOM screenshots

The software is with
free updates
of diagnostic functions and
technical support
.

Play PoCOM video tutorials.
2018-04-17 0.1.5113
Improved live data coverage (UDS / CAN ECUs)
2018-04-13 0.1.5111
New cylinder shutoff test for Bosch ME7.8 (997/987)
2018-04-12 0.1.5071
Added configuration read/write for SCS 9x7 ECUs
2018-03-22 0.1.5041
Added a large amount of measured values to control units
2018-02-27 0.1.4978
Added actuator tests to several ISO14229 ECUs
2018-01-23 0.1.4609
Added Porsche 718 Cayman/Boxster 2017+ (982) support
2018-01-19 0.1.4608
First public PoCOM beta version. Thanks to everyone who helped us to reach this stage.
2018-01-17 0.1.4604
Added overvoltage battery check before connection.
2018-01-03 0.1.4564
Added lighting and radar ECUs to Panamera 971 2017+
2018-01-03 0.1.4560
Added support for 2017+ models using 29bit CAN-BUS identifiers
PoCOM
PoCOM is diagnostic tool for Porsche. It supports all OBD2 compliant vehicles since 1996. We tried to maintain compatibility with PIWIS and PIWIS II dealer tools where possible. Also people who use VAG-COM/VCDS® or used Durametric scantool will be familiar with the application. Please note the diagnostic tool is a
beta version
with known problems.
PoCOM comes with OBD2 to USB interface and is designed to work on Windows 2000/XP/Vista/7/8/10 or Linux or Mac OS/X (using Wine emulation). Hardware requirements are very low compared to dealer-tools.
Hardware
Our OBD2 to USB PoCOM interface contains 2 multiplexed ISO9141 K-Lines and L-Line, high-speed CAN-BUS and analog measurement circuits. Supported protocols include KW-71, KW-1281, KWP2000, VW TP1.6, VW TP2.0, ISO15765 and UDS ISO14229.
Key features
Fully multiplexed all-in-one smart USB2.0 interface
Automatic ECU recognition
Automatic vehicle scan (screenshot)
ECU Identification (screenshot)
Fault code (DTC) reading (screenshot)
Fault code clearing
Freeze frame reading (screenshot)
Live data recording
Diagnostic protocol printing
Actuator tests (screenshot)
Control unit coding (screenshot)
Configuration (screenshot, video)
Please use
our contact form
if you wish to get more information about PoCOM.
Early release
What is not tested or not yet finished:
Pre-1996 Porsche models with round Porsche connector are not tested. Durametric/Sensolutions adapter should work with PoCOM, in case of any problems, please contact us.
Porsche 993 I01 alarm and ABS5 ECU support is not working at this moment.
Porsche Panamera 2016+ (971) support is limited
Configuration on 9x7 are not fully tested, but most of the stuff should work (write functionality available in PoCOM development mode)
Order
We provide standard 2-year warranty for our products.
You can purchase extended 5-year hardware warranty for your diagnostic interface within 14 days of delivery date:
Documentation
In addition to documentation below you migh find useful also
DiagWiki.com
tutorials related to PoCOM.