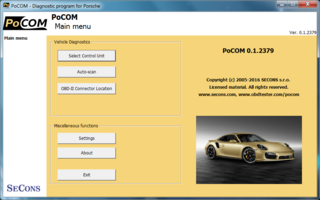 Click here for more PoCOM screenshots

The software is with
free updates
of diagnostic functions and
technical support
.

Play PoCOM video tutorials.

Latest PoCOM version
is
?
2023-09-28 0.2.8429
Improved error message when fault codes cannot be cleared due to unmet conditions.
2023-08-03 0.2.8373
Added new codings for Bosch EDC17CP44 4.2 TDI V8 (dual-ECU) engine system.
2023-07-31 0.2.8320
Added new variant of Bosch EDC17CP44 4.2 TDI V8 (dual-ECU) engine system
2023-07-17 0.2.8263
Increased support for 2014+ vehicles. Improved fault codes for all models.
2023-05-25 0.1.8227
Autoscan now distinguishes between ECUs where reading DTC failed and ECUs without DTC memory function
2023-05-12 0.1.8215
Added warning about wrong model selection based on VIN
2023-05-03 0.1.8199
CAN-BUS frame transmission improvements for communication with multiple ECUs
2023-03-14 0.1.8136
Reworked user interface scaling algorithm
2022-12-19 0.1.8046
Experimental turbo communication mode for KWP2000 protocols (faster live data sampling rate)
2022-11-25 0.1.8037
Improved live data functionality: last choice is remembered between reconnections
PoCOM
PoCOM is a diagnostic tool designed specifically for Porsche vehicles. It is compatible with all OBD2-compliant vehicles manufactured since 1996. We've worked hard to ensure that the tool is as compatible as possible with PIWIS and PIWIS II dealer tools. If you've used VAG-COM/VCDS® or Durametric scantool before, you'll find the application very familiar.
With PoCOM, you'll receive an OBD2 to USB interface. The tool is designed to work on a variety of operating systems, including Windows 2000/XP/Vista/7/8/10, Linux, and Mac OS/X (using Wine emulation). Unlike dealer tools, PoCOM has very low hardware requirements and is very quick.
Hardware
Our OBD2 to USB PoCOM interface contains 2 multiplexed ISO9141 K-Lines and L-Line, high-speed CAN-BUS and analog measurement circuits. Supported protocols include KW-71, KW-1281, KWP2000, VW TP1.6, VW TP2.0, ISO15765 and UDS ISO14229.
We do not supply Porsche round connector at this moment. Pre-1996 Porsche models with round Porsche connector are covered, but third party adapter must be used and functionality cannot be 100% guaranteed, in case of any problems, please contact us.
Key features
Please use
our contact form
if you wish to get more information about PoCOM.
Order
We provide standard 2-year warranty for our products.
You can purchase extended 5-year hardware warranty for your diagnostic interface within 14 days of delivery date:
Documentation
In addition to documentation below you migh find useful also
DiagWiki.com
tutorials related to PoCOM.
.
.