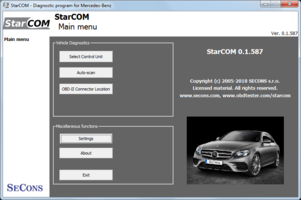 Click here for more StarCOM screenshots

The software is with
free updates
of diagnostic functions and
technical support
.

Play StarCOM video tutorials.
2022-12-19 0.1.5074
Experimental turbo communication mode for KWP2000 protocols (faster live data sampling rate)
2022-12-14 0.1.5063
Improved live data functionality: last choice is remembered between reconnections.
2022-10-10 0.1.5037
Improved application stability during communication interruptions with the control unit.
2022-09-02 0.1.5011
Fixed connection issues with some DCM/TSG ECUs
2022-08-10 0.1.5000
Fixed detection of absent ECUs on some CAN-MOST gateways
2022-06-22 0.1.4996
Application crash fixed: Disconnecting interface in the measured values dialog
2022-05-27 0.1.4941
Initial support for UDS configuration (Variant Coding)
2022-03-18 0.1.4792
Improved faulty CAN-BUS/ECU handling on vehicles with K-CAN gateway (EIS/EZS)
2022-03-10 0.1.4753
Improved coding routines failure evaluation and reporting
2022-02-03 0.1.4705
Fixed connection issue on K-Line KWP2000 W639 cars (Viano/Vito)
StarCOM
StarCOM is diagnostic tool for Mercedes-Benz and Smart vehicles. It supports all OBD2 compliant vehicles since 1996 and is currently in
beta version phase
.
Hardware
Our OBD2 to USB diagnostic interface contains 10 multiplexed ISO9141 K-Lines, high-speed CAN-BUS and analog measurement circuits. Supported protocols include KWFB, KWP2000 (plain and gateway/D2B connection), KWPCAN, UDS.
Key features
Fully multiplexed all-in-one smart USB2.0 interface
Automatic ECU recognition
Automatic vehicle scan (screenshot)
ECU Identification (screenshot)
Fault code (DTC) reading (screenshot)
Fault code clearing
Freeze frame reading (screenshot)
Live data recording
Diagnostic protocol printing
Actuator tests (screenshot)
Control unit coding (screenshot)
Configuration (screenshot, video)
Please use
our contact form
if you wish to get more information about PoCOM.
Order
We provide standard 2-year warranty for our products. Please note you are ordering
BETA VERSION
, make sure you know StarCOM functionality before placing an order.
You can purchase extended 5-year hardware warranty for your diagnostic interface within 14 days of delivery date:
Documentation
In addition to documentation below you migh find useful also
DiagWiki.com
tutorials related to StarCOM.