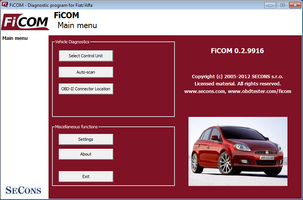 Go back to FiCOM homepage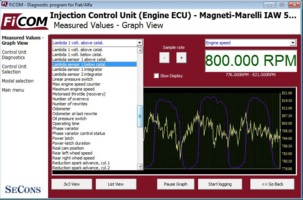 Click here for more FiCOM screenshots

This is original
high quality product
with 2-year warranty. We do not sell Chinese imitations.

Need assistance?
E-mail
or call us at +420 222 743 723 or +1 360-469-0472.

Latest FiCOM version
is
?
2022-11-28 0.2.14943
Improved live data functionality: last choice is remembered between reconnections
2022-10-10 0.2.14921
Improved application stability during communication interruptions with the control unit.
2022-08-04 0.2.14919
Fixed application bug: incorrect decoding of some configuration values
2022-06-22 0.2.14918
Application crash fixed: Disconnecting interface in the measured values dialog
2022-05-25 0.2.14870
Initial support for Vespa Euro5 models (CAN-BUS, UDS)
2022-04-14 0.2.14767
Added initial support for some new Ferrari models
2022-03-22 0.2.14759
Fixed issue in injector coding on Magneti-Marelli MJD 8F3 CF5+
2022-03-21 0.2.14757
Improved Ferrari 458 Italia support.
2022-03-10 0.2.14733
Improved coding routines failure evaluation and reporting
2022-03-05 0.2.14727
Improved support for Ferrari California
Fiat, Alfa, Lancia and Iveco Daily pin code reading
PIN code and RFID transponder pre-coding data reading is beta version, for more information please see
Diagnostics wiki article
).
Order
Important notice: in order to use FiCOM pin-code reading module, you already need to have our FiCOM diagnostic interface (comes with FiCOM software). If you do not have
FiCOM
yet, please order one from
this page
.
The module does not ship - you will be able to download it via Internet after we receive your payment. Please use our contact form to get more information about FiCOM pin code reading module.
See also