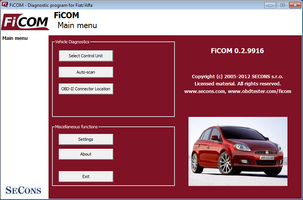 Click here for more FiCOM screenshots

Play FiCOM video tutorials.

This is original
high quality product
with 2-year warranty. We do not sell Chinese imitations.

The software is with
free updates
of diagnostic functions and
technical support
.

Need assistance?
E-mail
or call us at +420 222 743 723 or +1 360-469-0472.

Latest FiCOM version
is
?
2016-02-10 0.2.10139
Improved model selection for older models
2016-01-19 0.2.10103
Improved OBD2 diagnostic code descriptions
2016-01-17 0.2.10101
Fixed Iveco DTC reading/decoding problem on EDC and ABS/EBS ECUs
2016-01-14 0.2.10094
Improved CAN-BUS information function
2015-12-22 0.2.10075
Fixed problems related to Star (Chrysler) CAN/UDS protocols
2015-12-18 0.2.10063
Improved error handling during diagnostic connection establishing
2015-12-09 0.2.10007
New codings for all-electric cars
2015-12-09 0.2.10001
Added automatic ECU recognition for US Fiat models
2015-12-04 0.2.9968
Improved BCM/Body CAN ECU information function
2015-12-03 0.2.9964
Added initial support for Fiat 500E (all-electric) ECUs
FiCOM
FiCOM is diagnostic software for Fiat, Alfa and Lancia vehicles. It covers also other vehicles made in cooperation with Fiat such as Ford Ka II.
FiCOM comes with smart OBD2 to USB interface which contains multilpexer for both K-Line and CAN-BUS communication. This means that interface works fully automatic without need to hassle with jumpers, switches, or wires. Supported protocols include KW71, KWP2000, ISO15765 with extended IDs and extended addressing.
The software is very easy to use. We also tried to maintain compatibility with Fiat Examiner Smart, wiTECHplus and Iveco EASY/Eltrac where possible.

Key features
Support for wide range of ECUs and models (model selection and ECU selection screenshot))
Fully multiplexed all-in-one smart USB2.0 interface
Wide range of communication protocols and buses covered: KW71, IAW, KWP2000, FIAT9141, ISO15765, UDS, ...
Automatic ECU recognition
Automatic vehicle scan (screenshot)
ECU Identification (screenshot)
Fault code (DTC) reading (screenshot)
Fault freeze frame reading (screenshot)
Fault code clearing
Live data recording
Diagnostic protocol printing
Actuator tests (screenshot)
Control unit coding: (screenshot)

Immobilizer key matching (PIN code reading from ECUs is under development: we have functional version, required tools are in manufacturing process)
Injector coding
Parameters resetting
Proxi alignment (video)
PIN code and RFID transponder pre-coding data reading (paid module, beta version, Diagnostics wiki article)

Control unit configuration (screenshot, video)
Coverage
Full ECU coverage listing is available here
.
Documentation
Ordering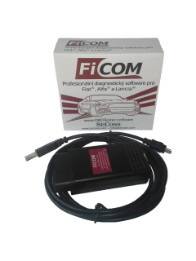 You'll get: FiCOM OBD2 USB interface, USB cable, CD-ROM with software and drivers, quickstart sheet. All this in plastic box. Everything is packed in bubble-mailer and all shipment are 100% insured. We provide standard 2-years warranty on our products. For more information see global product order page.
Adapters are optional accessory only if you need to diagnose vehicles without OBD2 socket.
Software modules order
Important notice: in order to use FiCOM odometer correction module, you already need to have our FiCOM diagnostic interface or purchase module along with FiCOM above.
The module does not ship - you will be able to download it via Internet after we receive your payment. Please use our contact form to get more information about FiCOM odometer correction module.
Please use our contact form to get more information about FiCOM.
See also