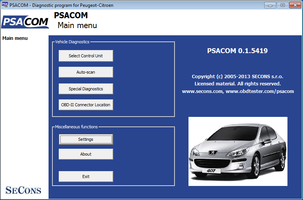 Go back to PSA-COM homepage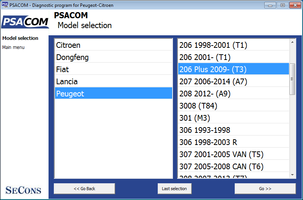 View PSA-COM screenshots
System
Ident.
DTC
FrFrame
Livedata
Actuator
Config
Coding
BECB_GEN2
3
-
12
-
-
Powertrain
System
Ident.
DTC
FrFrame
Livedata
Actuator
Config
Coding
Transmission
Magneti-Marelli CFC300P var.2
9
15
46
10
-
Injection Control Unit (Engine ECU)
Bosch EDC17C10 BR2 (8HP,8HR,9HM,9HH,9HJ,9HP,9HF,9HE,9HN,9HK)
13
142
243
9
-
Valeo V46 (HMY,HMZ,ZMZ)
12
84
199
14
-
Chassis
No ECUs in this category.
Body
System
Ident.
DTC
FrFrame
Livedata
Actuator
Config
Coding
Body systems integration (BSI)
BSI 2010 (UDS)
7
-
526
68
230
BSI 2010 EV (UDS)
3
-
-
-
250
Multimedia
No ECUs in this category. Errors and ommisions excepted.
Errors and omissions excepted. SECONS s.r.o. is not connected with car manufacturers in any way. This page uses trademarks that are property of Peugeot/Citroen/Fiat or other owners in nominative fair use to identify car models.