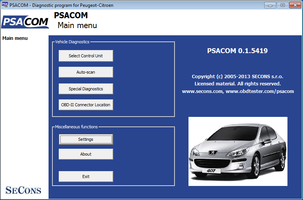 Click here for more PSA-COM screenshots

This is original
high quality product
with 2-year warranty. We do not sell Chinese imitations.

The software is with
free updates
of diagnostic functions and
technical support
.

Need assistance?
E-mail
or call us at +420 222 743 723 or +1 360-469-0472.

Latest PSA-COM version
is
?
2023-05-25 0.1.8248
Autoscan now distinguishes between ECUs where reading DTC failed and ECUs without DTC memory function
2023-03-14 0.1.8218
Reworked user interface scaling algorithm
2022-12-14 0.1.8192
Improved live data functionality: last choice is remembered between reconnections.
2022-10-10 0.1.8170
Improved application stability during communication interruptions with the control unit.
2022-07-07 0.1.8161
Application crash fixed: Autoscan dialog
2022-07-07 0.1.8144
Application crash fixed: Saving ECU snapshot
2022-06-22 0.1.8124
Application crash fixed: Disconnecting interface in the measured values dialog
2022-06-07 0.1.8117
Application crash fixed: Race condition in measured values dialog
2022-05-24 0.1.8095
Application crash fixed: Unrecognized control unit
2022-03-10 0.1.7795
Improved coding routines failure evaluation and reporting
PSA-COM
PSA-COM is diagnostic tool for Peugeot/Citroen and other PSA-Manufactured vehicles (such as Fiat Ulysse).
Hardware
Our OBD2 to USB PSA-COM interface contains 8x ISO9141 K-Line, 1x ISO9141 L-Line, CAN-BUS, and analog measurement circuits. Supported protocols include ISO15765, PSA2000, Bosch KW71 and PSA2. The diagnostic interface is compatible with Windows 2000/XP/Vista/7/8/8.1/10 or Linux and Mac OS/X (using Wine emulation)
Key features
Fully multiplexed all-in-one smart USB2.0 interface
Automatic ECU recognition
Automatic vehicle scan (screenshot)
ECU Identification (screenshot)
Fault code (DTC) reading (screenshot)
Fault code clearing
Freeze frame reading (screenshot)
Live data recording
Diagnostic protocol printing
Actuator tests (screenshot)
Control unit coding (screenshot)

Vehicle PIN code reading (sold as separate module, beta version)

Configuration - write function available in development mode (screenshot)
Please use
our contact form
to get more information about PSA-COM.
---
Order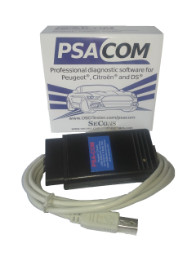 You'll get: PSA-COM OBD2 USB interface, USB cable, quickstart sheet. All this packed in a box. Software download online (software on CD-ROM on request only, the software outdates very quickly, so please consider if you really need installation media). Everything is packed in bubble-mailer and all shipment are 100% insured. For more information see
global product order page
. We provide standard 2-year warranty for our products.
To purchase beta version of pin code reading module (description), purchase the following item. License will be assigned to your interface. You may also need PSA-COM InjCAN adapter. Please use our contact form to get more information about the module.
Documentation